IK Multimedia iRig Mic HD-A Digital Condenser Microphone for Android Devices
SKU: 57859E0F-A088-4249-95E6-6E12E1127DA9
Sorry, this item is out of stock
Authorized Dealer!  Full Warranty!
NEW!
The first handheld digital microphone for Android and PC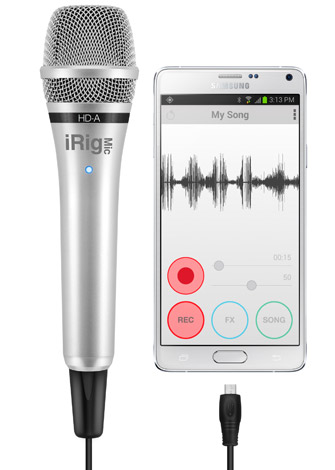 Put the power of superior digital audio recording in the palm of your hand
iRig Mic HD-A is the first affordable high-quality handheld digital condenser microphone for Android. Now singers, musicians, journalists, videographers, podcasters and more can enjoy high definition digital audio while on the go. Talk about versatile: You can connect it directly to your Android device or PC! How's that for convenience?
But versatility is just one of iRig Mic HD-A's many attributes. iRig Mic HD-A sports a 24-bit audiophile-grade A/D converter, a 44.1/48 kHz sampling rate and a low-noise/high-definition pre-amp.
You can count on iRig Mic HD-A to give you high quality results, anytime and anywhere. It can handle the most demanding professional needs in the field or in the studio and is comparable in quality to what you'd get in a mic that costs three times as much.